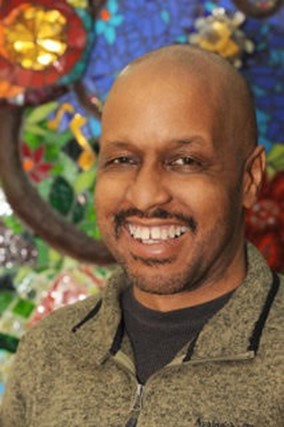 Dr. Samuel H. Leguizamon Grant (he/they/we)
Executive Director
Sam has a thirty-plus year history of utilizing critical participatory action research on the intersectionality of racial, cultural, economic, gender, environmental and geographic justice. He has worked with and through formations from the grassroots level to state government, and from community-based initiatives to those of national and international scope. Through organizing and development initiatives, he strives to improve the quality of life for people and transform structural patterns that impede mutual wellbeing.
"The point of research and evaluation is to continually enhance our critical consciousness and capacity to close the gaps between the world we experience and the world we wish for and strengthen the relationship between what we say we want to create in the world and our capacities to deliver in the context of profound socio-ecological complexity."  
Sam is expanding Rainbow Research scope of work by bringing in work focused on environmental and climate justice. He is coaching staff on building an integral culture within the organization that is thoroughly democratic and decolonizing and supporting the organization in developing capacities as a practice leader on intersectional research and evaluation methods.